 LUMBERLOK TIMBER CONNECTORS
Stainless Steel Joist Hangers
SSJH
Reference Series: Stainless Steel Joist Hangers
Joist Hangers are designed for use where a strong, rigid joint is required between members meeting at 90˚, e.g. truss/joist to beam, or rafter to bearer connection.
Joist Hanger 47 x 90 Designed for use where gauged timber of 47mm width and up to 150mm deep.
Joist Hanger 47 x 120 Multi-use bracket suitable for gauged 47mm thick timber up to 200mm deep.
Joist Hanger 47 x 190 Used for gauged 47mm thick timber up to 300mm deep.
Joist Hanger 70 x 180 A special size joist hanger designed for gauged 69mm wide timbers.
Joist Hanger 95 x 165 For use on gauged 94mm wide timber or double joists/trusses.
Note: Joist Hangers 52mm wide also available for rough sawn timber.
All of the above Joist Hanger connections should be fixed using LUMBERLOK Stainless Steel Product Nails 30mm x 3.15mm diameter, or Type 17-12g x 35mm Hex Head Stainless Steel Screws. Also available in Zinc Coated and Hot Dip Galvanised. Refer below for Product Data and Installation.
Materials: 0.9mm Stainless Steel 304
Finish: Stainless Steel
Installation
Refer to the product brochure.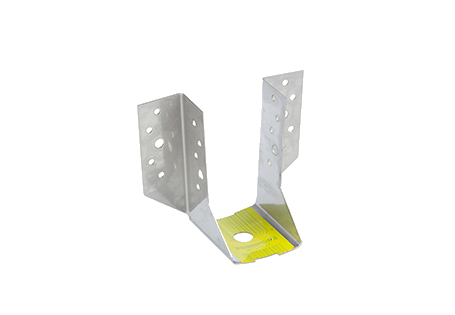 Stainless Steel Joist Hanger 47x90