Features
MULTI-PURPOSE STATIONARY PRESS
Hydraulic regeneration valve reduces pressing time.
Adjustable pressure for different timber types.
Safe, compliant, two hand electrical operation.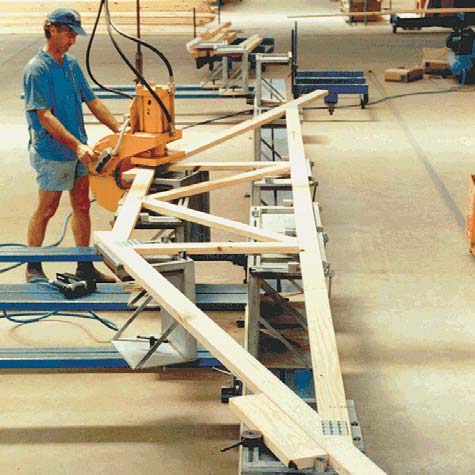 SPECIFICATIONS
Compatible with many different press head types and therefore can be readily integrated into an existing factory.
Cheap – relative to table presses and multi-head systems.
Robust and heavy design of the jig ensures consistent truss shapes and dimensions during set-up.
Moving arms always remain square to bottom chord rail. The outer ends are on castors to facilitate quick and easy movement.
Simple – minimal operator training required for quick set-ups.
Tapes on base and apex rails for quick and accurate setup.
Adaptable – easily expandable to make bigger or more complex trusses.
Low maintenance – routine inspection and cleaning only.
Strong & robust – will last for a long period of time in a normal day to day truss plant environment.
Suits large truss sizes – up to 4 metres apex height.
Low rail height – for ease of operation and movement around jig.
PHYSICAL DATA
Jig details
• Overall dimensions: length 12 or 16m, width 4363mm, rail height
312mm, flo-box height 475mm, total height 787mm.
Standard configurations
•12m bottom chord rail, 4m apex rail, 4 moving arms and 12 flo-boxes,
•16m bottom chord rail, 4m apex rail, 6 moving arms and 15 flo-boxes,
•16m bottom chord rail, 4m apex rail, 4 moving arms and 12 flo-boxes.
Moving arms
2 x 2.0m, 2 x 2.5m (12 box jig)
2 x 2.0m, 2. x 2.5m, 2 x 3.0m (15 box jig).
Flo-box sets
Set of 12 – 1 x apex, 2 x heel, 3 x splice, 6 x universal
Set of 15 – 1 x apex, 2 x heel, 4 x splice, 8 x universal.
• 2 measuring tapes mounted to the bottom chord rail.
• 1 measuring tape mounted to the fixed apex rail."
Portable nail trays for internal or extra joints.
Portal or Gantry press to press joints.
Bottom chord press.
Magnetic Flo-Jig option.
Pneumatic clamping of flo-box and moving arm positions.
Standard Flo-Jig base and apex rail extensions to suit customer's requirements.
Laser projection system for positioning of flo-boxes,timber and nail-plates.