 THE MITEK BRAND STORY
Your success is our success. That vision drives us forward in all of our relationships – to help you apply the resources and knowledge we have available, to help you overcome today's hurdles, to streamline your business, and accompany you on your journey to the success that you deserve.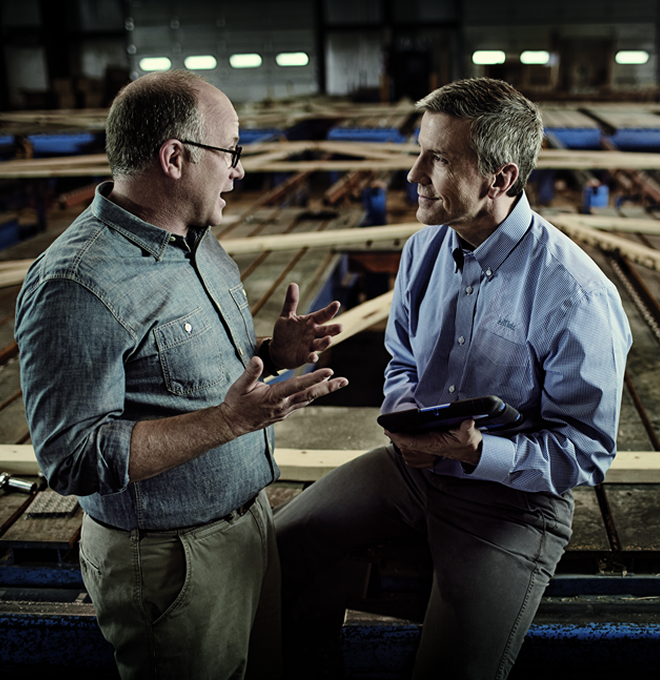 OUR CUSTOMERS ARE THE
HEROES OF OUR STORY.
What we do: We serve our customers (and the industry) by helping you to continually streamline your business workflow, and optimize your structural framing.

How we do it: We do that by applying our industry-leading software, off-site manufacturing equipment, innovative structural connections, expertise, and experience to help you solve problems and reduce unnecessary materials, waste, time and labor.

What sets us apart: Relationships. We live out a genuine, core passion for serving our customers; and we build trust as a partner on your journey, through our uncompromising commitment to helping you succeed – immediately, and in the long run.
THE MITEK STANDARD
Our standard of doing business sets the bar for what you should expect from a company; a new standard of service – not just in the way of products, software and machinery, but more importantly in partnering with you to achieve continuous improvement and success.
We believe in building lasting relationships and great technology to continuously build better structures.
We believe in putting people first because we are inspired to help people achieve great outcomes in life and in business.
We believe values matter – they provide language and guidance to our relationships and behaviors that frame how we serve our customers and our industry.
Building Trust

ALWAYS GIVE PEOPLE MORE THAN THEY EXPECT TO GET.

"
Tony Castledine
GM Building Supply Channel-Asia Pacific