 LUMBERLOK TIMBER CONNECTORS
Sheet Brace Straps
SBS
Reference Series: SBS
Punched strap available in lengths of 200mm, 300mm, 400mm and 600mm, to provide a hold down for use with sheet bracing. As per NZS 3604:2011, a 6kN capacity can be obtained by one strap (6 nails per strap end) or 12kN per two straps (6 nails per strap end). Fixed with LUMBERLOK Product Nails 30mm x 3.15mm diameter.
Also available in Stainless Steel 304.
Refer below for Product Data and Installation.
Materials: 0.91mm x 25mm G300 Z275 Steel
Finish: Zinc Coated
Installation
Refer to the product brochure.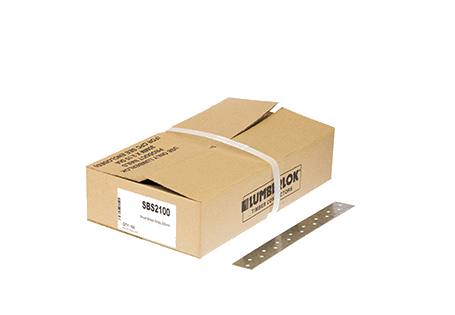 Sheet Brace Strap 2100