 LUMBERLOK TIMBER CONNECTORS
Strip Brace
SB
Reference Series: SB
Strip Brace is supplied in 10m, 15m and 30m coils for use as bracing or in short lengths as a jointing material. Strip Brace provides an ideal bracing system for walls, or roof plane. One crossed pair of strips may be used in each location where a diagonal brace is required. Fix using 5 x LUMBERLOK Product Nails 30mm x 3.15mm diameter at each end if strip is folded over timber face. Otherwise use 8 nails each end.
A heavier gauge Export Grade (item suffix EX) is also available in 10m and 30m coils. Tensioners are included with marked boxes of Strip Brace coils or available separately if required.
Also available in Stainless Steel 304. (Stainless Steel tensioners not available).
Materials: 0.55mm x 27mm G550 Z275 Steel 0.91mm x 25mm G300 Z275 Steel (Export Grade)
Finish: Zinc Coated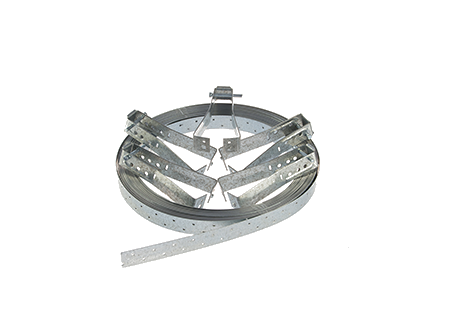 Strip Brace 30T