Features
Operator uses the single pusher to dock studs, noggins and blocks to size and then, the same pusher is used to position the stud, ready for the noggin to be nailed in the correct location.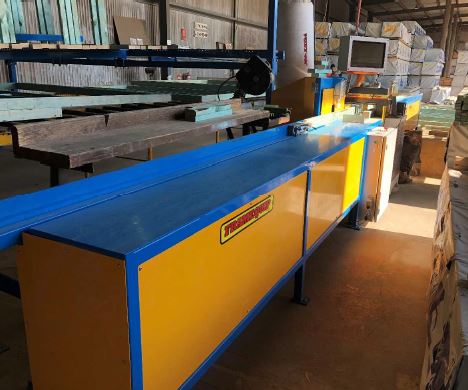 SPECIFICATIONS
The MiTek Nog Master is an offline, all in one stud and noggin saw and assembly tool. The operator uses the dual pusher system to dock studs to length and cut the noggin from a separate stock member, all in one cut.
The stud gripper positively positions the stud automatically, the noggin is moved into position and the guns are fired. It couldn't be easier. Files generated in MiTek software are used for the cutting and assembly process. The operator views a screen which displays all the relevant assembly details.
These machines are often paired with a Crossover outfeed system (see page 9) which enables the operator to place the stud/noggin assembly in a queue, ready for the frame line operator to place in position.