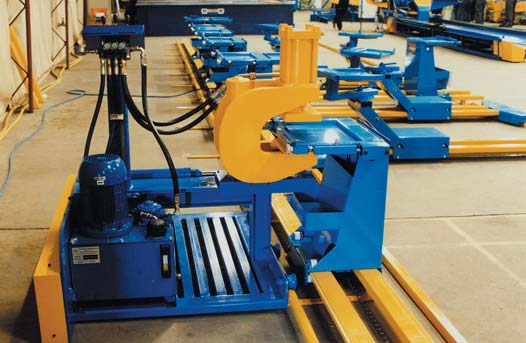 Kwikset Bottom Chord Press
DESIGNED TO WORK FAST Halves the pressing time of each truss, significantly increasing production
REQUEST MORE INFORMATION
Features
DESIGNED TO WORK FAST
Works in conjunction with a standard Portal or Gantry Press system.
be supplied with new press and flo-jig or retrofitted to an existing system.
Decreases pressing time by approximately 50%.
KwikSet Bottom Chord Press Overview Video
SPECIFICATIONS
The Kwikset Bottom Chord Press consists of a C-Frame press head mounted onto a carriage.
This travels manually between the pressing points of the truss bottom chord set up on a flow-through style jig.
The bottom chord press works alongside a standard Portal or Gantry press system, where the existing press head is used to press top chord nail-plates.
This halves the pressing time of each truss, significantly increasing production.
Designed to work fast, this press is very safe and simple.
It can be supplied with a new press and flow-through style jig, or installed in an existing system.
PHYSICAL DATA
| | |
| --- | --- |
| Overall weight | 500kg (38T), 555kg (45T). |
| Overall dimensions (W x H x D) | 1000 x 1578 x 900-950mm |
| Configuration | C-Frame press head mounted on travelling carriage. Press head has in and out motion relative to the carriage. The carriage moves laterally in relation to the truss bottom chord along rails. |
| Floor | must be mounted on a concrete floor that is level or nearly level. |
| Compatibility | suits most Flo-thru jigs including MiTek standard and Unipress Flo-Jigs, Kwikset jig, Hydro-Air Mark IV jig |
Installation Data
| | |
| --- | --- |
| Power Supply | 415V, 3-phase & neutral, 20A. |
45T capacity press.
Customised rail lengths to suit jig size.